Candie's Eyewear
World Optic is an authorized store for Candie's Sunglasses, Eyeglasses and Cases. Visit our showroom to see our entire Candie's eyewear collection. World Optic also provides the latest technology in prescription lenses. Need your Candie's eyewear Repaired or Modified?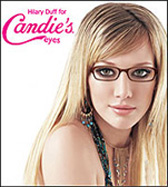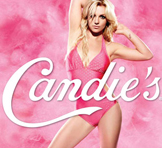 When you say the name Candie's an image will pop into your mind. It may be your first pair of Candie's or your favorite Candie's ad. Candie's is pop culture. Candie's always has the 'It' girl for its national ad spokesperson. It's worn by celebrities and is featured in television shows and motion picture films

Candie's award winning advertising is noted for its sexy but playful concepts. Candie's girls include Fergie, Pat Benatar, Cheyenne Kimball, Hilary Duff, Ashlee Simpson, Kelly Clarkson, Destiny's Child, Ashanti, Alyssa Milano, Dixie Chicks and Jenny McCarthy. The brand is one of the most recognized in the country and is one of the top brands on the minds of the fast-growing 'Millennials' consumer segment. More..