Giorgio Armani Eyewear
World Optic is an authorized store for Giorgio Armani Sunglasses, Eyeglasses and Cases. Visit our showroom to see our entire Giorgio Armani eyewear collection. World Optic also provides the latest technology in prescription lenses. Need your Giorgio Armani eyewear Repaired or Modified?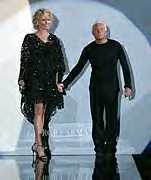 Giorgio Armani was born July 11, 1934 in the small village Piacenza, 50 miles outside of Milan. His Mother was among his earliest influences. She was the perfect balance of feminine grace and strength. Armani's mother also took great care with her appearance and wardrobe. At age 16 Armani departed from his home to Milan. He studied medicine for two years, fulfilled his military obligation and enjoyed photography as a hobby.

Armani was first introduced to the fashion world as a department store window dresser. In 1970, he began to work as a freelance fashion designer and in 1972 Giorgio Armani the brand was born. Armani began to design women's suits with Sergio Galeotti in a two bedroom Milan apartment that they furnished by selling their Volkswagen. In 1987 Giorgio Armani Eyewear began and in 1988 a license agreement was signed with Luxottica Group. In 2004 Safilo aquired the rights to Giorgio Armani's eyewear collection.